| | | |
| --- | --- | --- |
| | IDA Excellose | |
Description
IDA Excellose®
is designed for rapid single step purification of histidine tagged fusion proteins. The gel is also available as pre-packed disposable columns for rapid and convenient purification of smaller quantities of proteins.
Application
Purification of poly histidine tagged proteins
Gel characteristics
ㆍChelating group : Iminodiacetic acid
ㆍBead form : Spherical, 75 - 200 mm wet bead diameter.
ㆍSpacer arm : 5 atoms
ㆍChemical stability : No significant loss of the capacity is detected when IDA Excellose is exposed to 0.1 M


acetate pH 4.0, 0.1 M NaOH, 70% ethanol or 6 M guanidine hydrochloride
ㆍStorage : 20% ethanol as preservative.
Data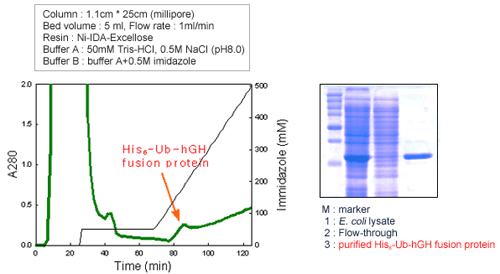 Cat.No.
Product
Size

AEx-CI-1

IDA Excellose

10 ㎖

AEx-CI-2

IDA Excellose

50 ㎖

AEx-CI-3

IDA Excellose

100 ㎖